Brewing Innovations 2017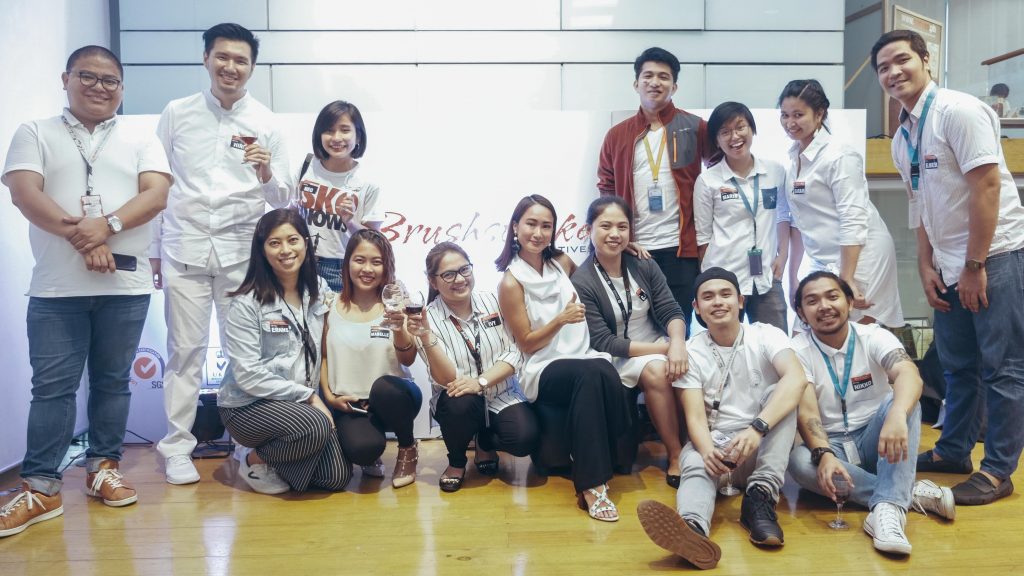 Brushstroke Creatives (BC) a full-scale print service provider under the Union Inks and Graphics Philippines Inc. (UIGPI) recently unveiled its latest line of services in an exhibit titled, "Brewing Innovations" at Primer Star Center in Leon Guinto, Malate, Manila. In partnership with Designery and Primer Group of Companies, BC set up a posh gallery of various artworks andkey sections of a typical operation such as Pre-production, Production and Re-tell areas where guests can visualize the development process of BC's newest crop of services.
Agri Ferrer, General Manager of UIGPI highlighted that the team is committed to converting client's imagination to reality – from design, fabrication and installation and Brewing Innovations is an avenue that showcased BC's complete branding or display solutions.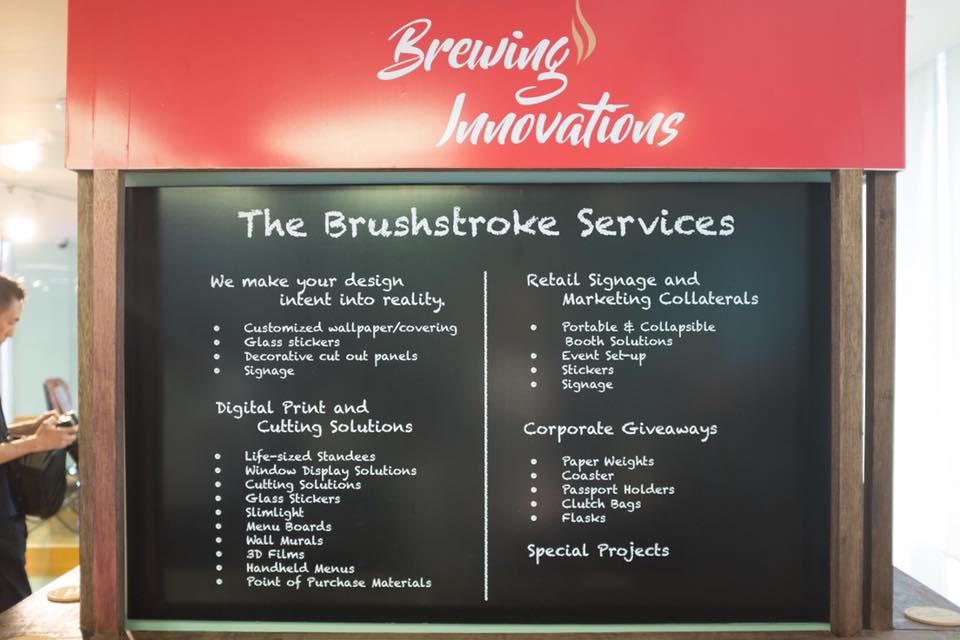 "We at Brushstrokes Creatives pride ourselves that we continuously explore innovations in our materials and applications whilst ensuring that our clients are well taken cared of and are given top notch products and services," said Mary Sy, BC Business Development Manager.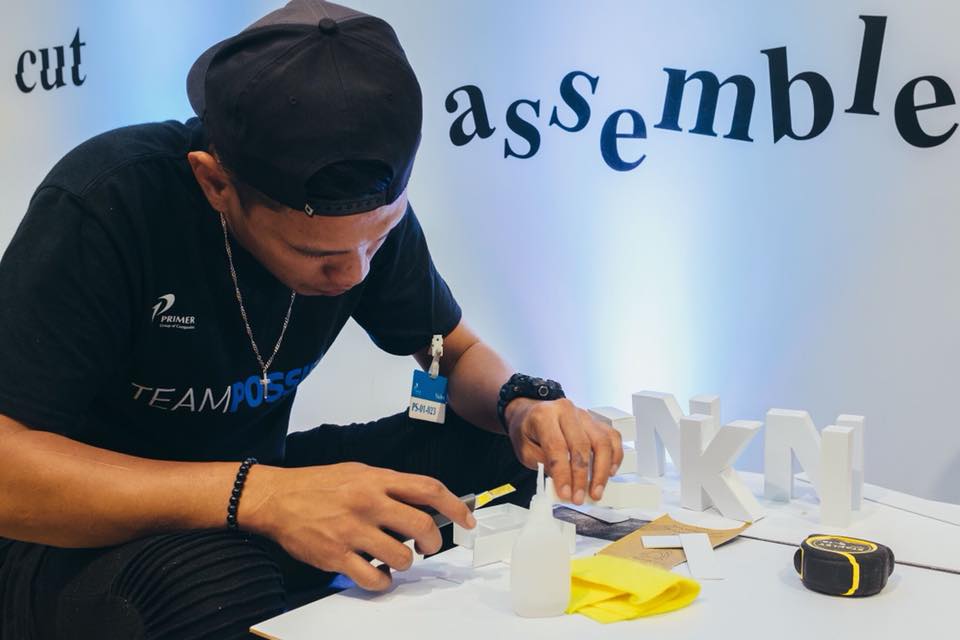 Given that the brewing of innovation begins at the pre-production stage, a visual display of the fundamental elements of design execution was showcased. These included a magnet board, a wide variety of material swatches, and rigid materials such as deco panels, corrugated board and wood.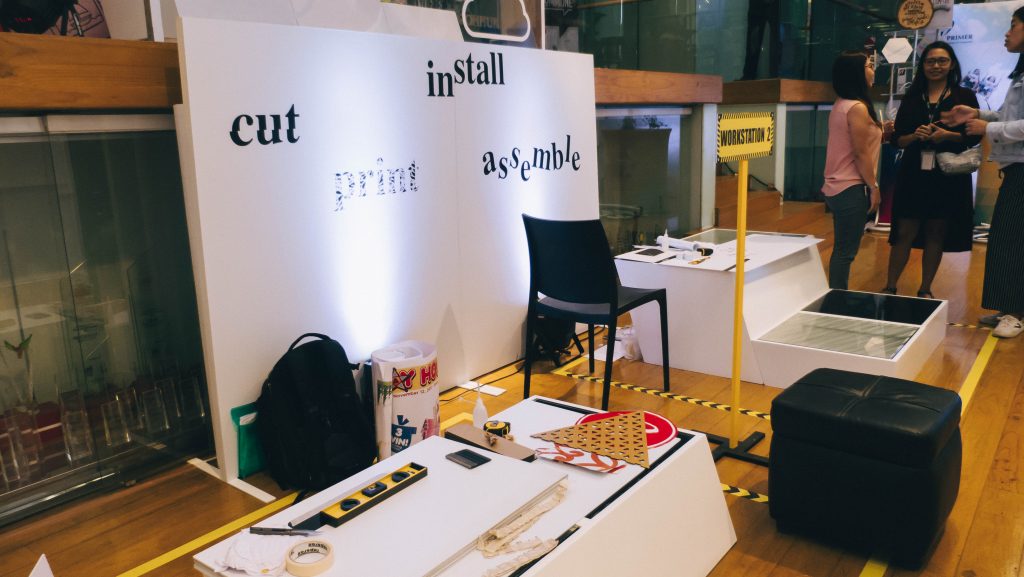 Next stop during the tour was the production stage, an area where the team immersed the guests with how the machine works and processes involved when actualizing design plans. This area has a fabric light box, the assembly process of different materials to standees, build-up letters for signage, portable booth systems or modules that are space savers and easy to set-up, as well as work stations with BC's production team showing how it's done.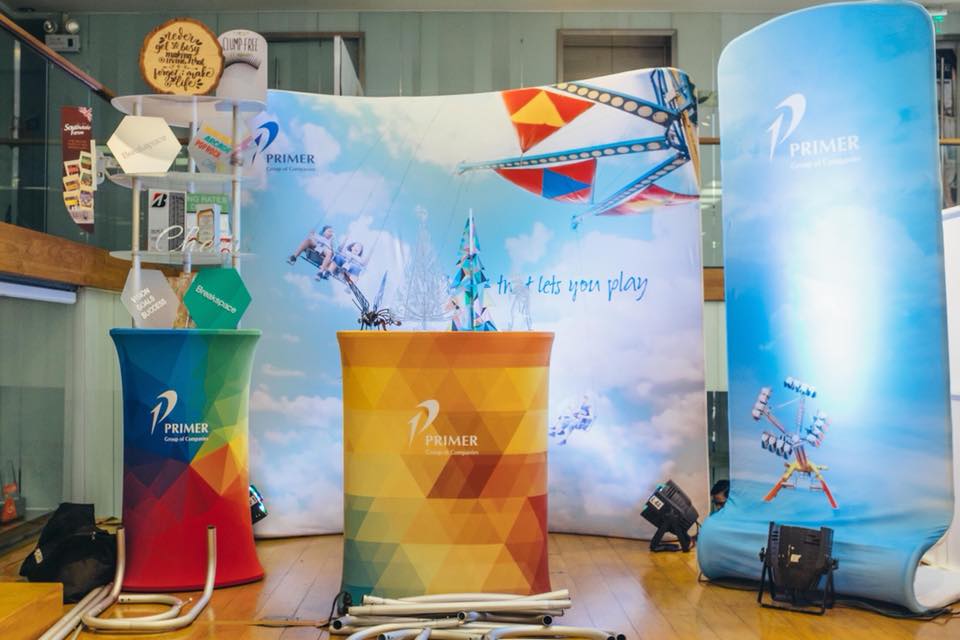 The last stop is the "Re-tell" area where guests see actual installations of three design visions. These included a window display with a travel and adventure theme sponsored by Columbia, a coffee set-up presented in partnership with Commune, and a photo gallery of BC's past works and beautiful illustrations from CANVAS. A play on the word "Retail", BC envisioned this area to be a place where imagination and creativity work that can help companies "re-tell" their brand story in a new and different way through various innovations in lighted signage, fabric backdrop, cut-out glass stickers, and product display risers. Sy also mentioned the total experience involving the five senses in retail nowadays, "from window display, to music, mood, serving coffee or the whole customer experience is very important especially with the rise of online shopping".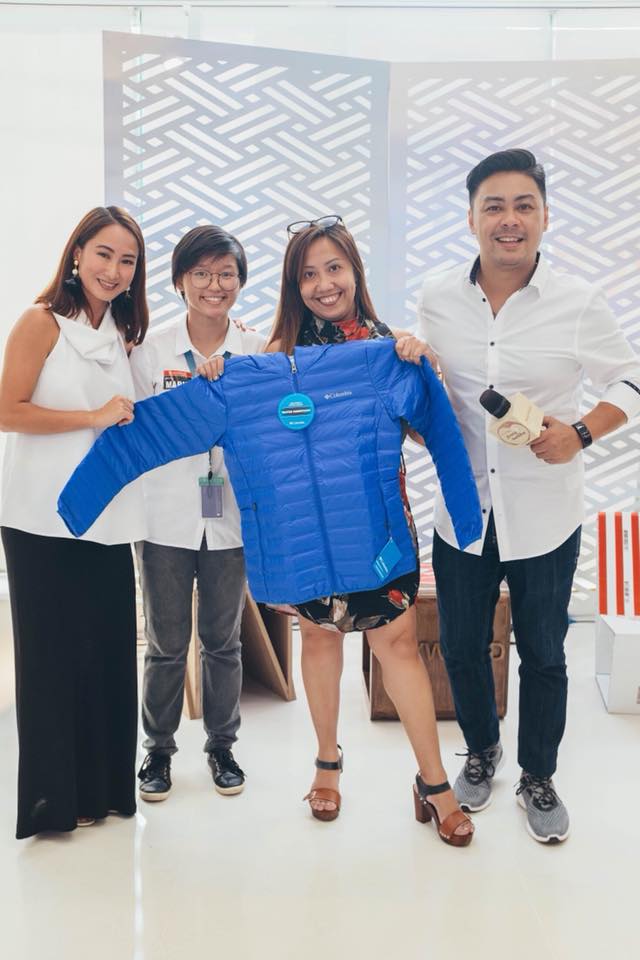 Hosted by Mike Acuna, a brand talk was also held along with raffle segments with minor and major prizes for guests from the event sponsors such as the Primer Group of Companies, Designery, and Junknot.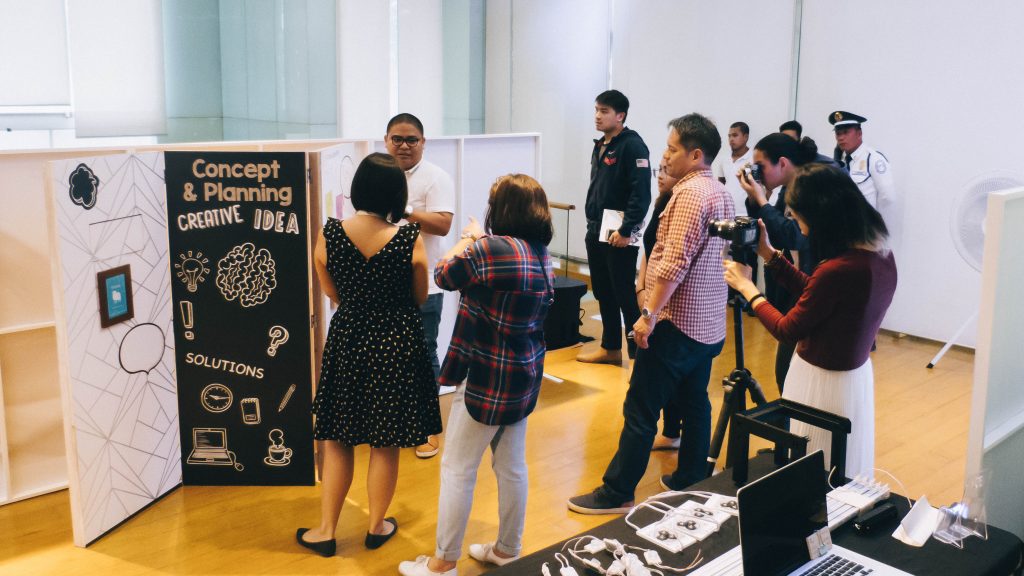 Conceived to reflect BC's ethos of constant development and care for the environment, "Brewing Innovations" is a testament of the company's passion for generating pioneering and ingenious ideas and possibilities in the field of digital printing and cutting solutions using some recyclable materials and water-based inks. Moreover, the exhibit served to mirror BC's willingness to guide its clients through the entire design process.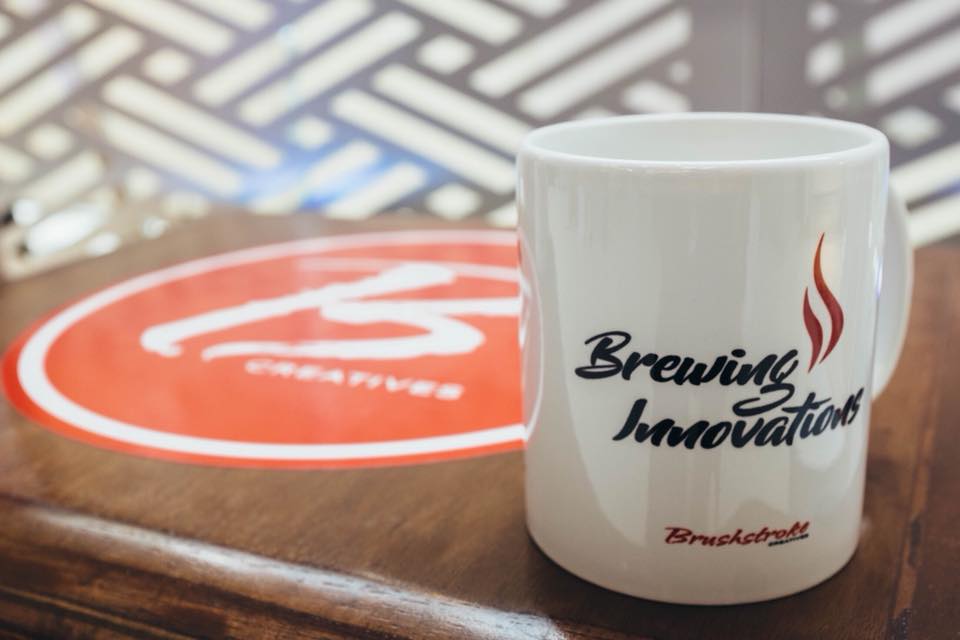 Like good coffee, BC knows that each stage of development is vital. Starting from the brewing process all the way to serving the cup, BC vows not only to brew innovations but also, to infuse meaningful partnerships.
BC isconstantly seeking new and creative ways to enhance its services to various stakeholders and brand leaders across different industries. From advertising and retail to real estate, design, and architecture, BC continues to forge relationships with robust clients such as Uniqlo, Smart, Digitel, SM, Robinsons Group, Megaworld, Vista Group, Filinvest, TaskUs, Sanitary Care, Products Asia, Trends & Concepts, Bratpack, ResToeRun, Sneakpeek, R.O.X., Grind, Flight 001 and The Travel Club.
ABOUT UIGPI (Union Inks and Graphics, Phil.Inc)
Founded in 1997 under the umbrella of the Primer Group of Companies, Union Inks and Graphics Philippines, Inc. is a one-stop shop for a wide range of printing needs for various applications. It manufactures screen-printing inks, reducers and related chemical solutions and distributes screen-printing supplies and other printing-related materials for both graphics and electronic applications.
UIGPI is also a full-scale print, cut & build service provider generating creative ideas and new possibilities in digital printing, cutting and building solutions catering to all types of industry namely advertising, consumer goods, retail, real estate, interior design and other projects.
ABOUT PRIMER GROUP OF COMPANIES
Established in the Philippines in 1985, the Primer Group of Companies is engaged in the retail and distribution of the world's top and premium consumer brands in outdoor, travel, footwear, fashion, action sports, wellness and urban lifestyle. It has also established a solid ground in the industrial products and services landscape, with companies in full-scale printing, air-conditioning and creative graphic design and services.
The company is aggressively expanding to become the leader in the global distribution and innovation of premium goods and services. Its retail authority alone has grown to over 150 premium brands, with over 500 free-standing stores worldwide. Headquartered in Manila, Philippines, the Primer Group employs over 3,000; and has presence in Hong Kong, Indonesia, Japan, Malaysia, Singapore, Taiwan, Thailand, Vietnam, Australia and the United Kingdom.
For more information, please visit www.primergrp.com
To connect with the Primer Group via Facebook, visit www.facebook.com/PrimerGroup, via Instagram, visit https://www.instagram.com/primergroup and via Twitter, visit https://twitter.com/primergroup